Avola is a pretty town in the province of Syracuse, overlooking the gulf of Noto and about 82 km from the city of Catania. The beauty of Avola is linked not only to its landscape and historical heritage, but also to its food and wine products such as the tasty Almond Pizzuta d'Avola and the fine Nero d'Avola wine.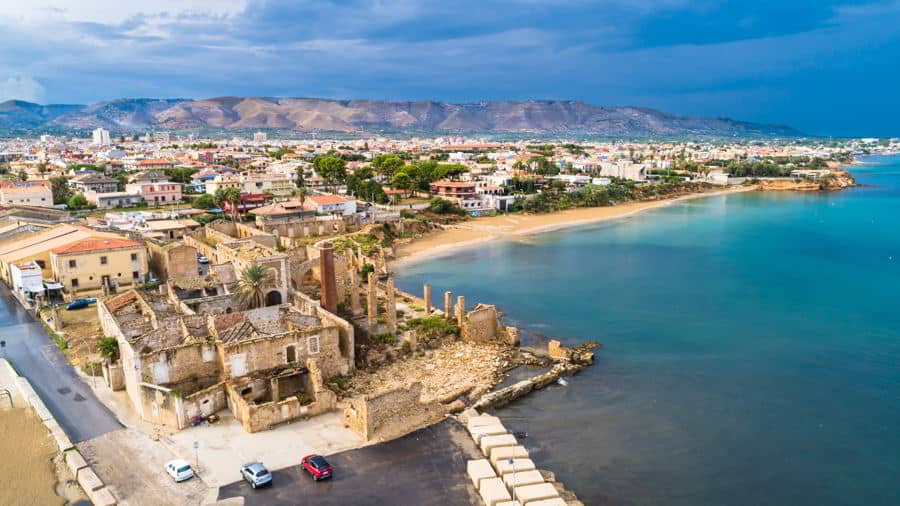 Discovering Avola with a rental car
Once landed at Catania Airport and collected the previously booked rental car through Acarent service, you will have the opportunity to reach Avola, exploring its beauties with complete freedom.
The origins of Avola are uncertain: it is believed to be the ancient Hybla, a place that witnessed constant battles between Sicans and Sicilians for the dominion of Sicily.
Avola rose from the ashes following the devastating earthquake of 1693. The reconstruction gave birth to elegant noble buildings such as Palazzo Lutri with its beautiful 18th-century portal, the former Palazzo Ducale, and above all, the iconic Palazzo Modica. On its façade, a wrought-iron balcony stands out, supported by a remarkable portal. Its opulent interior halls host events and cultural exhibitions.
The historic center of Avola is rich in religious buildings such as the Chiesa Madre of San Sebastiano, built in late Baroque style and home to a valuable wooden crucifix from the 17th century. The churches of Santissima Annunziata and Sant'Antonio Abate are further examples of Sicilian Baroque, adorned with paintings and featuring five marble altars inside.
Acarent, through its car rental service in Avola, allows visitors to explore the Sicilian city and its surroundings with utmost convenience.
The "Cava Grande del Cassibile"
Avola is fortunate to be surrounded by a rich and lush nature, which culminates in the spectacular Cava Grande del Cassibile, now a protected oasis. With the car rental service in Avola, you can easily reach it in complete tranquility.
The Cava Grande del Cassibile is a canyon in pure white rock that welcomes the flowing of the Cassibile River. You can descend to the base of the gorge through a not-so-easy path, but the effort will be rewarded with truly unforgettable views, including what Sicilians call the "Laghetti di Avola," nestled among oleanders, plane trees, ferns, and extremely rare orchids.
Since prehistoric times, this canyon has been inhabited by peoples who settled here and built cave villages, some of which are still visible today. A visit to the Grotta dei Briganti, carved into the living rock, is a must in this regard. As the name suggests, it became a refuge for outlaws in the following centuries.
Of notable archaeological importance are, finally, the village of Dieri, a system of interconnected natural caves through galleries and tunnels, and the Protohistoric Necropolis of Cassibile.